The Puzzle Art Installation & Collaborative Project is a growing & traveling, group art exhibition. It was initially sponsored by the Monmouth County Arts Council and was created and developed by the artists Tim Kelly & Sandy Taylor (MCAC) and Marie Maber (Brookdale Community College) for the 2009 Monmouth County Teen Arts Festival at Brookdale. It was a great success and a lot of fun. After the festival people began to ask, "What is next?".
Since the festival the project has been coordinated and maintained by Tim Kelly. The Puzzle art project evolves and grows through Tim's "Art is Good" creative workshops (www.artisgoodforyou.com) and also through schools, arts groups, organizations and individuals throughout the country and around the world.
The Puzzle Art Installation & Collaborative Project is proof that art is essential to life. You do not have to be an artist to participate, you just have to have something to say. Each piece is an individual story. Every story is different... like us.

CBS "Eye on New York" segment on The Puzzle Project.
Puzzle Art Project Details:
Thousands of 24"x 24" (foam core) artistic puzzle pieces have been created by several schools, corporations, communities, arts groups and galleries, organizations, support groups, the "Art is Good" creative workshops, and random artists of all ages. Puzzle pieces have been made in over 20 states and 10 countries. The installation continues to grow every day.

Participants can tell any story they want on their puzzle piece. It can be a painting, drawing, collage, words, mixed media, fabric...anything. ANYONE CAN PARTICIPATE. The goal of each piece isn't just to say SOMETHING, but to say something MEANINGFUL TO YOU.

All puzzle pieces fit together as a 3-dimensional puzzle structure constructed as a group collaborative art installation.

Participants can trace and duplicate puzzle pieces, as long as they are the standard project puzzle shape and are thick enough to stand up straight. Strange and unique substrates are encouraged. We just want to include them in the installation after you make them.

This project was originated by The Monmouth County Arts Council
& made finacially possible by SurfTaco. The artist Tim Kelly coordinates the puzzle installation and has accepted the responsibility for growing, maintaining, sustaining and promoting the project in the future.

Puzzle project participants immediately become contributing artists
in a historic, traveling group exhibition. So if you make your own piece, you would have that going for you.

We hope to show the massive puzzle art installation in NYC and then hit the road exhibiting across the country and Internationally.

The puzzle project has been used by organizations to raise money for their cause, create awareness and community.

It's a good fit for most.

You can be a part of this by simply contacting Tim Kelly - tk@timkellyartist.com or call 646.734.9072
Puzzle Installation Project History:
THE ORIGINAL NEED:
The Monmouth County Arts Council wanted to add a live collaborative installation project to the Teen Arts Festivals.
THE IDEA:
The Monmouth County Arts Council's Sandy Taylor and Marie Maber of Brookdale wanted a way for each students individual voice to be included with others in a collaborative effort. Along with the artist, Tim Kelly, it was decided that a big "jigsaw puzzle" may be a clever solution. The "Puzzle" installation project was born.
THE PROBLEM:
As with most art related events in todays economic climate, we were tight on financial resources. The cost of materials needed to complete the project properly was beyond our budget. Not good.
THE SOLUTION:
Tim Kelly found help were he does time and again. As resident artist at SurfTaco, he's learned from working with Rob Nagel (SurfTaco founder), that the Taco has a sympathetic ear for art. It didn't take long for SurfTaco to see the value in the project and step up to the plate. Rob offered to pay for the materials and generously offer SurfTaco's space for any preparation or project needs. We couldn't have done it without them.
THE PREP:
The folks at the Belmar Arts Council proved that the strength of art is found in the artists themselves. Several artists and volunteers from the BAC showed up one sunny weekend to generously help prep the puzzle materials. We turned each 8'x4' sheet of foam core (paid for by SurfTaco) into 8 individual puzzle pieces. The universal puzzle piece die was created by Tim and produced by routing the shape out of 1/8" styrene. We were tracing, cutting, chatting and listening to tunes until approx. 800 pieces were prepped for the installation.
Below are pictures of prep day. The first photo is of the sun rising over the ocean in the morning just prior to us meeting. We took it as a good omen...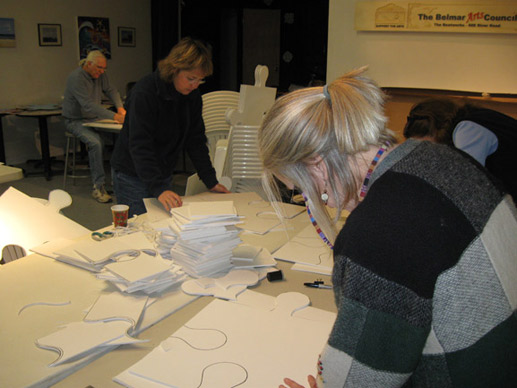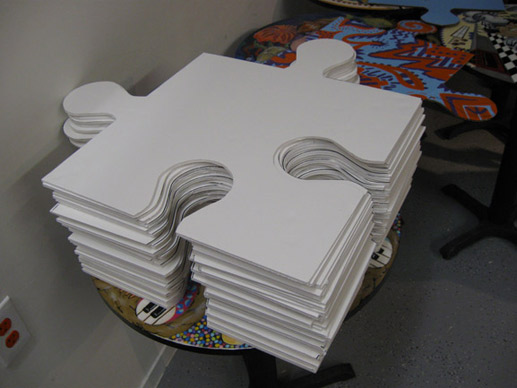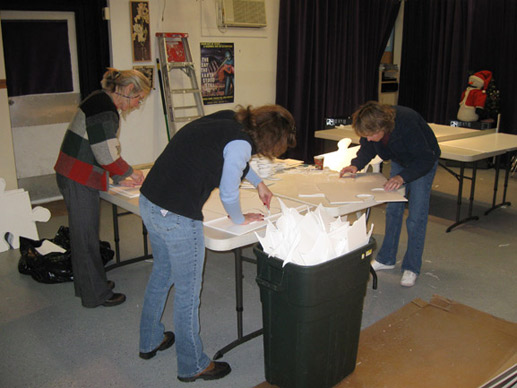 THE BEGINNING:
The Art is Good creative workshops, hosted by Tim Kelly, were a great place to make some sample puzzle pieces. See some pictures from the workshop.
THE HIGH SCHOOL OUTREACH:
The Monmouth County Arts Council sent artists, Sandy Taylor & Tim Kelly to local high school art, writing & photography departments to discuss the project and distribute blank 24"x24" puzzle pieces, as well as show sample pieces.
MOMENTUM:
Soon artists of all ages began meeting for casual puzzle making sessions.
It was a fun and cathartic form of expression.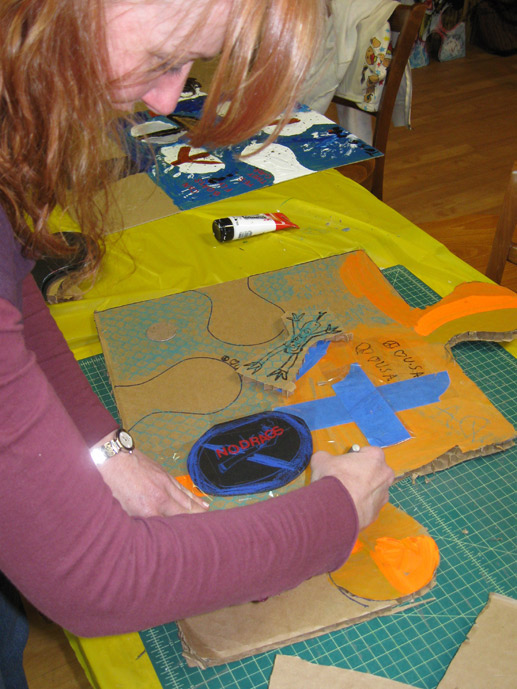 THE INITIAL INSTALLATION SETUP:
On Friday the 13th of March, Sandy & Dave Taylor, their friend Gary, Tim Kelly and Robert Maber setup the metal support structure for the installation in the Visual Arts Gallery at Brookdale Community College. The first puzzle pieces were joined together.
HANGING DAY:
On Tuesday, March 17th (St. Patricks Day) we received and assembled all of the puzzle pieces created prior to the festival. The students work was inspiring and the puzzle combinations were endless. It surpassed all of our expectations.
2009 TEEN ARTS FESTIVAL:
On Thursday, 3.19 & Friday 3.20, a few thousand high school arts students took over Brookdales campus for two days of art, music, dance, preformance, poetry, and much more. We offered two days of nonstop puzzle making. Our team of puzzle artists helped students utilize the paints, collage materials, mixed media, markers and most importantly, their own ideas to make puzzle pieces. It was inspiring and dynamic. The room was alive and the young artists fed off of each other and the puzzle team fed off of the students. It truly was beautiful. The work produced in such a short period of time, transformed the collaborative installation into a work of art. See Pictures.
NEXT:
After Brookdale, it was installed at SurfTaco at 1003 Main Street in Belmar, NJ.
Several sub-installations are currently being developed across the country and around the world. School of Creative and Performing Arts in San Diego found us and made the project bi-coastal. The YMCA in Brooklyn started making puzzle pieces at several locations. Then Monmouth County Library System hosted Art is Good puzzle making workshops at all of their branches. Soon we were making puzzle pieces with companies, schools, organizations, supports groups, communities and with random artists.
THE FUTURE OF THE PUZZLE PROJECT:
The project has been continuously traveling and growing around the USA and across the globe. Thanks to things like Google, Pinterest, Instagram and Facebook, people find us. Thanks to Skype, Tim can connect with new participants around the world. The Puzzle Project has become an artisitic movement. It is a "Human" project that tells the story of us.
Have you made your puzzle piece?
To learn more or to become part of this historic collaborative project email tk@timkellyartist.com or call 646.734.9072
NOTE: This website represents Puzzle Project activity from the projects beginning, but does not get regularly updated. It is more like the Puzzle Project (BC). To see our new website, visit: www.artisgoodforyou.com (AD). The best way to see current updates is to: LIKE us on Facebook (Puzzle Installation & Collaborative Project) and to FOLLOW us on Instagram (puzzle_art_project)
Puzzle Making Workshops
are brought to you by


www.artisgoodclass.com