The Puzzle Art Installation & Collaborative Project is a growing and traveling group art exhibition. You don't have to be an artist to participate, you just have to have something to say. People of all ages have contributed their individual voice collectively with others to form this historic and massive art project. It's a simple way for each of us to tell our own story.


The Puzzle Art Installation & Collaborative Project is about expressing ones self and collaborating with others. Each piece starts out blank white. But in the end, all of the thousands of pieces in the big jigsaw installation are different... just like all of us. That is the most interesting aspect of this group art project. What each artist deems "meaningful," varies from piece to piece. It is a human project.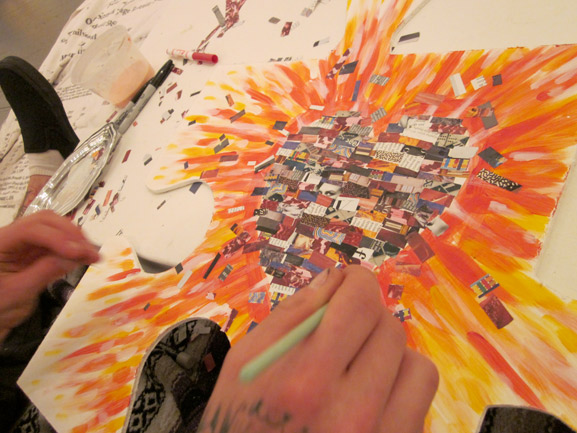 The project is being sustained and maintained by the efforts of the artist Tim Kelly and his cast of artistic helpers... where it continues to evolve and grow into something amazing.
What makes the puzzle installation so interesting is the unique message or story of each individual puzzle piece. (click each link to see examples)
Several small sub-projects are currently being created and displayed across the country and around the world. Each will be added to the larger project installation as it grows and evolves into a historic piece of collaborative art and expression.
To learn more or to become part of this collaborative project email: tk@timkellyartist.com or call 646.734.9072
Groups contact Tim Kelly directly to make arrangments. It's easy as pie.
Group discounts available. We have a NYC DOE Vendor Number
Return your piece when it is done. It will be included in upcoming art installations and traveling exhibits.
Currently (posted 11.19.19):
The Puzzle Project has an art installation on exhibit at the Historic 67 West Street Greenpoint Terminal. The exhibition is on the 4th floor of the building full of creative people. Visit Greenpoint Brooklyn to see the puzzle art and make your own. 67 West Street, 4th floor, Brooklyn, NY 11222. Stay tuned for schedule of open creative workshops.
Project Highlights:
Figment Art Festival, Governors Island, NYC
The Puzzle Project was one of more than 200 artists and performers on Governors Island. Thousands of spectators viewed the puzzle installation at Figment and more than a hundred new puzzle pieces were created on blankets under trees on the big lawn across from our puzzle exhibit tents. It was artsolutely beautiful.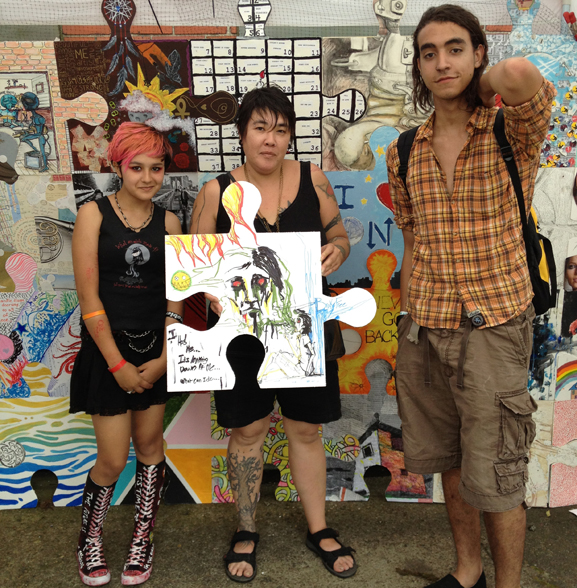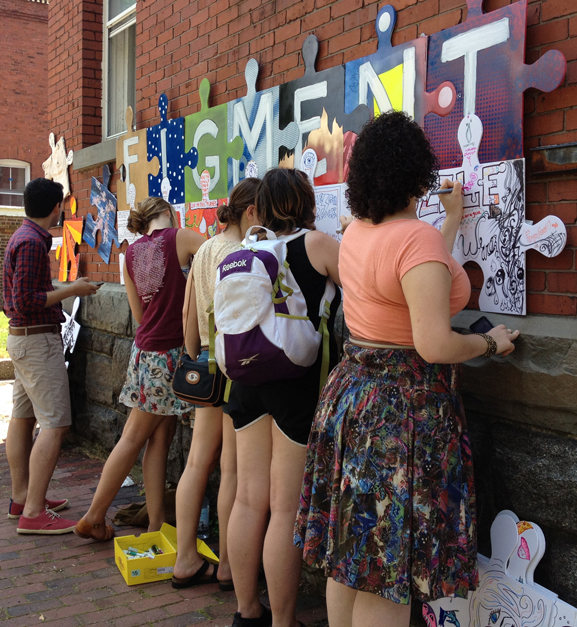 -----------
The Hampton Puzzle Project in Orlando. The Puzzle Team: Tim Kelly (coordinating artist), Theresa Previ (Team CEO), Dave Previ (Chief Engineer) and Chrissy Lynn Darrah (Team Photographer) organized, photographed/archived, curated, assembled and installed approximately 1400 artistic puzzle pieces created by Hampton Hotel employees from around the world. The Puzzle Team also facilitated puzzle art making and helped Hampton GM's tracked down their own puzzle pieces.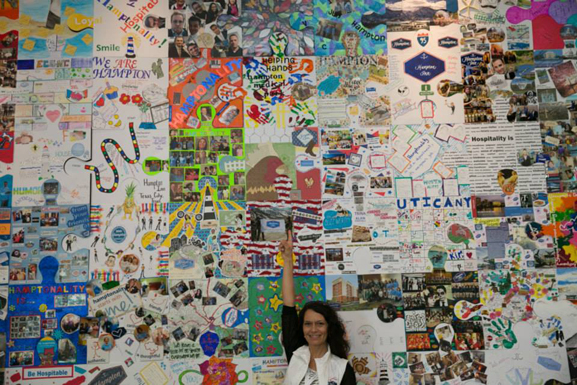 Each Hampton hotel location made puzzle art about their hotel, staff's "Hamptonality" and a little local flavor. The artwork was inspiring. Everyone at the event from corporate, to GM's, to the agencies and partnering groups were amazingly positive people that we hope to see again.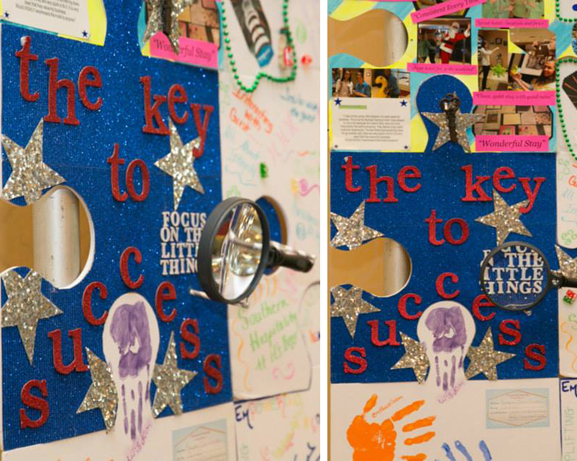 --------
The Puzzle Project was part of the Northside Art Festival in Williamsburg, Brooklyn. They shut down Bedford Ave and filled it with artists and art.


--------
The Puzzle Project at Artists & Fleas Indie-Market
Chelsea Market, NYC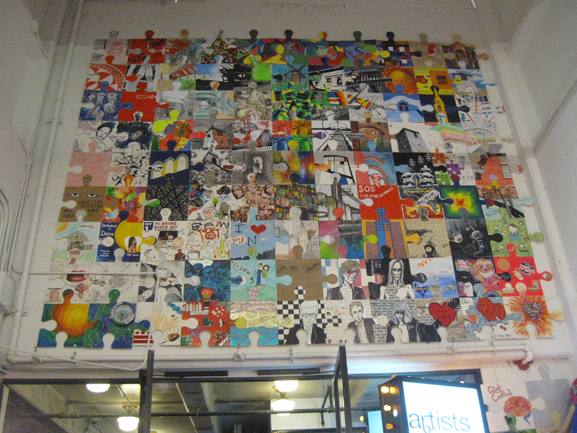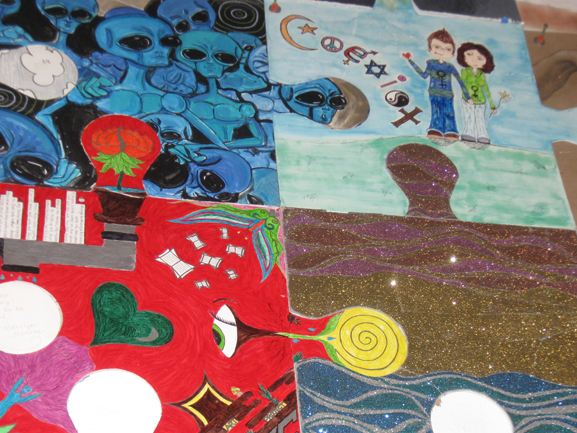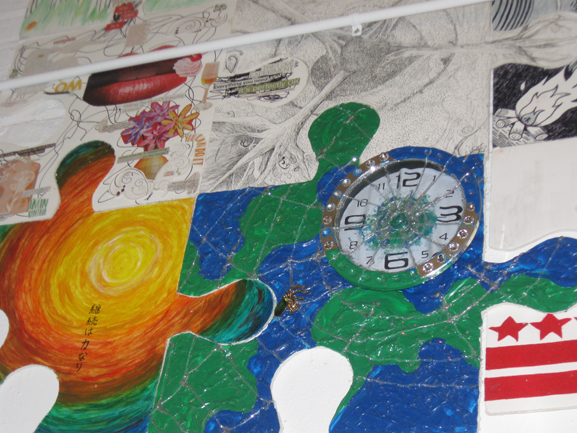 The Puzzle Installation spent 4 months at Chelsea Market. It was our most death-defying location nearly 50 feet high at the Artists & Fleas Indie Art Market.
Chelsea Market's A&F- 88 Tenth Avenue (Tenth Avenue & 15th Street). www.artistsandfleas.com
--------
The Puzzle Project had an amazing workshop at the Keegan Theatre in Washington, DC. The Alien Band played live music. The puzzle art we created together was on display at their amazing location on church St in Dupont Circle.

Roger Clark of NY1 visited the installation and interviewed Tim Kelly & Jessie Chism of the puzzle project and Jamie Johnson of ACNY. Click to watch the segment.
Hundreds of artistic puzzle pieces created by hundreds of individual artists, ACNY, In Rivers Art Space, Reaves Gallery, the YMCA, etsy.com, PS16, PS177, The Queens Museum of Art, Inwood House, South Richmond High School, Seaview Academy, as well as others in NYC were on display at the Spattered Columns.
Images on this website may load slowly. Please be patient...a picture is worth a thousand words. Take note of the smiling faces of the art makers and the proud faces of the finished puzzle art holders. It's why we keep going and growing.
Puzzle Making Workshops
are brought to you by


www.artisgoodforyou.com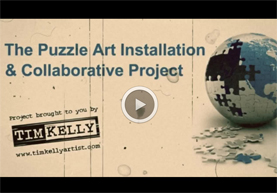 Click to watch our quick flick about
the puzzle project.
------------------------------
11.19.19
The Puzzle Project is alive & well and has continuously grown since it began more than ten artful years ago. Thanks to repeat participants, word-of-mouth, search engines like Google & Yahoo, as well as many pins on Pintrest, people from across the country & around the world find this project.
Sorry, this website is often in need of updates, has a dated design and antiquated technology. The Puzzle Project is not about a website, it is about thousands of partipants creating thousand of large unique puzzle pieces that assemble together to make a massive piece of collaborative art. It may be world-record big.
It is easy to participate. Have you made a puzzle piece?
Art is good,
Tim Kelly, coordinating artist
NOTE: This website represents Puzzle Project activity from the projects beginning, but does not get regularly updated. It is more like the Puzzle Project (BC). To see our new website, visit: www.artisgoodforyou.com (AD). The best way to see current updates is to: LIKE us on Facebook (Puzzle Installation & Collaborative Project) and to FOLLOW us on Instagram (art_is_good_foryou)

------------------------------
Contact Tim Kelly to get a puzzle piece
A donation per piece is appreciated.
Return your puzzle piece
when you feel most comfortable
email: tk@timkellyartist.com to arrange pickup or return of your jigsaw art.
Group discounts apply.
-----------------------------
fun workshop pictures:
Monmouth Library
Hazlet Branch
YMCA, Greenpoint
Harry Van Arsdale H.S.
links:
-------------------------------
Puzzle Project News & Facts...

-------------------------------

check out the blog posting on etsy.com about our project.
-------------------------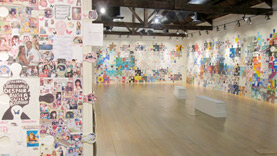 The Puzzle Installation & Collaborative Project exhibition and reception at Middletown Arts Center on Saturday, Feb. 5th, 2011
Click to see photos
-------------------------
We are happy to announce that PS177 and South Richmond HS/IS Students @ IS7 asked to rebook puzzle workshops. This makes us happy. Each school is part of Districk 75. They were both fun and we cannot wait to make art together again.
--------------------------


Prior to our recent opening reception at ACNY for the puzzle exhibition in Soho, I was given a gift from a participating artist. This is a picture of us posing together with the artistic pillow she made for me. This talented young lady has a bright future in art. Receiving this present is one of the sweetest things that I've experience while creating collaborative art with others. Art is good!
-------------------------------------------
Click to learn about The Shore2Recover
Pirl Family Project Fundraiser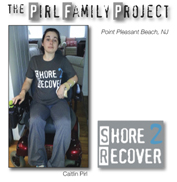 ---


This package containing dozens of puzzle pieces from Slovakia arrived sooner than we thought. Cannot wait to open it and enjoy each new piece that will join our main puzzle installation. Slowly we are gathering all the pieces from across the country and around the world.
Several schools across Europe have been puzzle art making as part of the Comenius Project. Their puzzle pieces will be arriving in NYC by the end of the month. To learn more about the schools from Slovakia, The Czech Republic, England, Germany & Italy
click to see photo's of puzzle art making in Europe.
-----------------------------------


The Reaves Gallery
at 526 W26 St., Suite 706
Chelsea, NYC hosted an open puzzle making workshop on Saturday, Dec. 18th & Tuesday, Nov. 30th from 6-9pm.
Click for photos
-------------------------
An Open Puzzle Making workshop was held on Tuesday, July 27th from 6-9pm at SurfTaco in Belmar.
-------------------

Become a Fan of our Puzzle Installation & Collaborative Project Facebook page. Please recommend it to your friends, so that we can spread the word. Click to visit our page.
------------------------------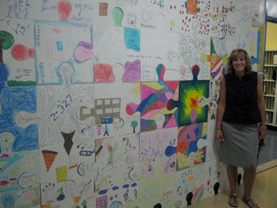 Principal Mary Renny stands in front of some of the 300 puzzle pieces installed at PS16 in Williamsburg, Brooklyn
___________________________
The Puzzle Project is International!!
The Secondary School of Applied Arts in Kosice in Slovakia is participating in the Puzzle Project, as part of the Comenius Project. The has expanded to schools in the Czech Republic, Germany, Great Britan & Italy. Click to learn more.
The Shanghai Community International School in China is participating and will be working on their puzzle pieces in the Winter
We hope they will send pictures .
Escola Xin Hua at Macau in Hong Kong have become a part of the puzzle project
Hope they send pictures, too .
------------------------------
------------------------------
------------------------------
The David S. Zocchi Brain Tumor Center booked several puzzle making workshops for 2011. A portion of the funding has been raised through the Text for 10 promotion.
------------------------------
You need only click through the picture links above to see the impact art makes on artists young and old. Try to count all the smiles and see the looks of pride and happiness on the faces.
-----------------------------
Many of the materials that we use as art supplies are recycled/reusable. We like to think that if we throw something away it will be garbage forever. If we use it for puzzle making then it will be art forever.
-------------------------------

This is the first ever puzzle piece
made for this project. Tim Kelly,
made this prototype in between
food, nap's and football during
Thanksgiving Day 2008.
click to see larger image
-------------------------------

SurfTaco generously paid for the
8'x4' white sheets of 1/4" foamcore
used to make the first 800 puzzle pieces.
-------------------------------

Tim Kelly produced a universal
puzzle piece die out of 1/8" styrene.
Sandy, Pat, Hutch, Tim and
the other kind artists from the
Belmar Arts Council got the project
started by spending an afternoon
tracing and cutting blank puzzle pieces.
-------------------------------
We gave the initial 400 blank puzzle pieces
to high school students, kids, teens,
and adult artists...together the start of
this installation is what we created.
-------------------------------

We like to use various shells we find at the beach for mixing paint.
----
Please make a donation
which will help to sustain
this project