Roger Clark of NY1 came and visited the installation at ACNY on July 6th and interviewed Tim Kelly & Jessie Chism of the puzzle project and Jamie Johnson of ACNY. Click to watch the segment.
----------------

Click to watch the CBS "Eye on New York" segment which aired on Sunday, Jan. 2nd, 2011. Dana Tyler is really nice.
be patient, they've added advertising before video begins.
-------------------------------

Click to watch a segment on NY1 about the project. On 4.14.11 we filmed 2 live interviews at In Rivers Gallery and they produced 2 others. The 4 stories looped every half hour on NY1. Below is the story.
"Puzzle Project" Takes Shape In Brooklyn
April 14, 2011 by Roger Clark/NY1
A Brooklyn-based graphic designer is combining puzzle-making with art in what has already become a massive exhibit. NY1's Roger Clark filed the following report.

Artist Tim Kelly is a Brooklyn-based graphic designer who helped found The Puzzle Project a couple of years ago, starting at an arts festival in New Jersey. Since then, puzzle pieces have been made in all five boroughs, 15 states, and eight countries on three continents. The number of pieces is now approaching 5,000.
"Everybody starts with a blank piece of canvas, which is 24 inches by 24 inches, everyone starts with the same art supplies, but as you can see, from there, that's when everything changes," says Kelly. "The collaborative power of all these meaningful pieces create a great installation."

Here in the city, puzzle pieces have been made at schools, community centers, and at galleries like "In Rivers" in Greenpoint.

"It's great for the community, and it's great to like have an open dialogue with local artists and at the same time to have something positive," says Giancarlo Romero of In Rivers Gallery.

"Whatever you want to say you can say it with your puzzle piece," says Jessie Chism of The Puzzle Project.

Kelly is planning to put all the pieces on display in 2012, but has yet to find a space to accommodate them. He also hopes to take the exhibit international by 2013.
"At 5,000 pieces it would be nine feet tall by 1,250 feet wide," says Kelly.

If you have a space or want to make your own puzzle piece, visit www.puzzleartproject.com.
-------------------------------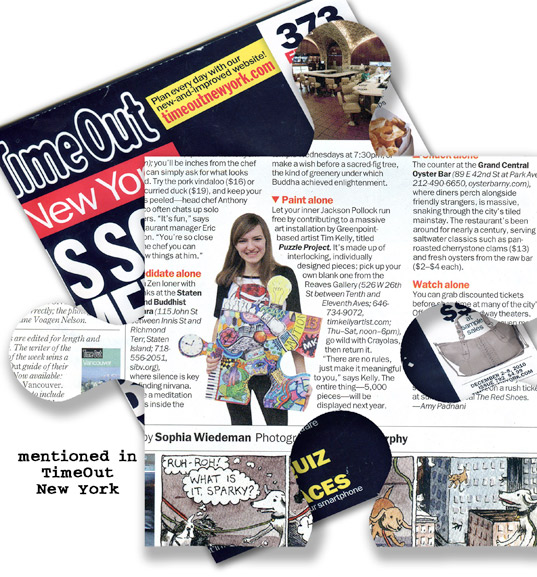 The Puzzle Project was mentioned in the Dec. 2nd, 2010 issue of TimeOut New York. This brief blurb generated a lot of great interest in the project.
click to see web posting
-------------------------------------------------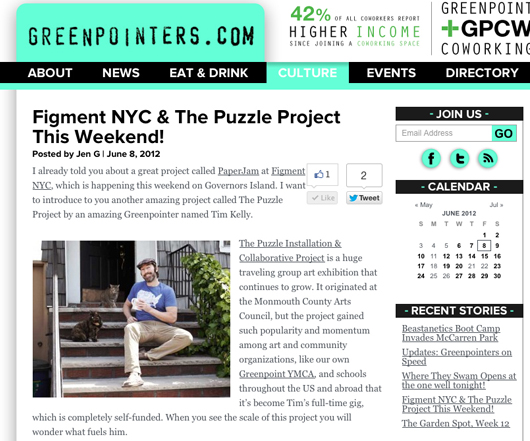 -------------------------------------------------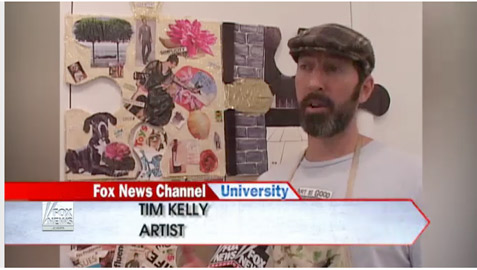 Fox News Online came to our puzzle making workshop at Art Connects New York in Soho and created his own puzzle piece. Click to watch this news story.
-------------------------------------------------
Click to hear the radio interview on 99.8FM about the puzzle project.
---------------------------------------------------
Piece It Together
A Hands-On Art Project Helps Families Create Meaningful Expressions
July 12, 2011, Posted By: Melanie Dostis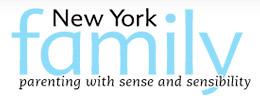 Imagine an art collaboration that defies ageism. With pieces from New York to the Czech Republic, peppered with brushstrokes and collages, the installation stands at a whopping 9-by-1,250 feet.
'Tis the brainchild of artist Tim Kelly, who coordinates and maintains the Puzzle Installation & Collaborative Project. The task is simple. With a ten dollar donation, participants receive art supplies and a 24-by-24 inch blank canvas to decorate and emote as they please. The result? Inspirational. The rules? Zero! "All we ask is that you make your puzzle piece meaningful to you," instructs Kelly.

How It All Started
Along with artists Sandy Taylor and Marie Maber, Kelly's passion project was born at the Monmouth County Arts Festival in 2009. Taking inspiration from the Deepak Chopra quote—"There are no extra pieces in the universe. Everyone is here because he or she has a place to fill, and every piece must fit itself into the big jigsaw puzzle (of life),"—the creative team settled on a jigsaw creation.

"We continue to grow every day," expresses Kelly who has since worked with schools, art groups, individual artists, and organizations across the country (and the world). This juggernaut of a jigsaw now houses 4,000 pieces. With hopes to reach 5,000, Kelly is scouting venues for a NYC installation that will be able to accommodate that volume of art. "It will be a historic exhibition that will help prove that art is an essential form of expression that cannot be denied," states Kelly.

In a culture where economic woes are taking their toll on schools and art programs have taken the hit, the Puzzle Project comes to the rescue at a much-needed moment. Kelly sums it up perfectly: "Kids should never be deprived of their creative outlet.  It's too important at this stage of their lives to be creative thinkers."

How To Get Involved
What better season than the summer to exercise that imaginative muscle? From a little girl creating a piece with the self-loving theme of "be yourself" to a teenager focusing on "I'm different, get use to it," the Puzzle Project boasts a simple message that can be fun for the whole family.
At the "Art is Good" workshops, come sit on a comfy blanket and surround yourself with hundreds of puzzle pieces while you create your own masterpiece.

CAN'T MISS HAPPENINGS:
•  A do-it-yourself puzzle workshop at Art Connects New York (491 Broadway, 5th floor) on Tuesday, July 19 from 6-9pm.
• Groups or schools interested in setting up a workshop or purchasing puzzle pieces should check Kelly's website to get in contact with him.
• 700 pieces are on display until July 27 at Art Connects New York. You can also purchase a puzzle piece there.
• Over 2,000 pieces are also on display at the Middletown Township Arts Center in New Jersey. Those interested can purchase pieces.
• To see some of the powerful puzzle pieces, click here.
---------------------------------------------------

Pieces of the Puzzle: Tim Kelly's Art Collaborative


Mar 18, 2010 by Juliet Linderman
"First and foremost, art has no rules. If you want to paint with your big toe, paint with your big toe," said Tim Kelly with a smile. He is tall and broad-shouldered, but you wouldn't know it—he's sitting cross-legged in the corner of the P.S. 16 cafeteria in Williamsburg as a flurry of his tiny students chase each other around the room. "Sometimes—especially in schools—I get in trouble for saying that!" Apparently that's how he got the multi-colored paint hand prints that now decorate his apron. "Art is expression."
This is Tim Kelly's mantra and his guiding principal, and nothing embodies it more perfectly than his brainchild and masterpiece, the Puzzle Installation and Collaborative Project, a large-scale interactive traveling art project involving more than 5,000 foam core puzzle pieces, to eventually be assembled together. Each piece is given to an individual, who is in turn expected to transform it into a piece of art.
"I always say, don't just make something, make something that's meaningful to you," Kelly said, lifting his arm to wave to a group of students being scooted out of the school by their respective parents. He teaches workshops five days a week at various locations—including PS 16, where he hosts students participating in the Greenpoint YMCA's Strong Kids Campaign—and often works on the weekends.
"I created this project to advocate for art as a form of expression," Kelly said. "We are at a time in America when the endowments for the arts are being cut and being deemed unnecessary. Art is a form of expression everybody understands, and I don't think it should be denied to anybody."
One year ago this week, Kelly, who lives and works in Greenpoint, began the Puzzle Project almost by accident. He was hired by Brookdale Community College, in collaboration with the Monmouth County Arts Council, to create an interactive art project for its students. In response, Kelly brought 800 foam-core puzzle pieces and spent three days working with the young artists, helping them create a large-scale "jigsaw puzzle." After the exhibition, Kelly realized—he was on to something.
"At the end of the festival, we had 800 puzzle pieces, which was awesome," Kelly said. "But every time I do a workshop I'm convinced I should keep going." In the course of one full year, Kelly has acquired more than 2,000 pieces, and hopes to make it to 5,000 by the end of 2010.
Kelly's primary motivation for the project, however, isn't the end result. More important is the process of working closely with others to help them to realize their artistic potential, find their individual voice and create something personal and meaningful. Each puzzle piece is meant as an expression in and of itself, and when put together the stories will become inextricably woven together.
"People liken this project to the AIDS quilt," Kelly said. "Each piece is someone's story, and the sheer power of thousands of pieces together is a testament to the sheer power of each individual. Art can be a very 'me' thing sometimes, and collaboration is beautiful. Of the thousand plus pieces some are made in pairs, in groups and by individuals. You can just see the sense of pride in each artist. And I tell each and every one of them, you are part of something bigger."
Kelly not only works with educational institutions. He also does workshops with brain cancer patients and survivors, Americorp participants and other groups that want to be involved. So far, seven states are represented in the Puzzle Project, and Kelly expects to soon see art from all across the country. Though, a project this size certainly isn't easy.
"My office, my house, my car—they are all full of puzzle pieces!" Kelly said. "I even cut the first 1,500 by hand. Let me tell you, my hands were really shaking. But what do they say? If you care about something and stand for something it's a passion project? I even dream about this at night."
While promoting art and expression is Kelly's primary focus, Kelly is also concerned with empowering Puzzle Project participants by helping them believe in themselves.
"Encouragement is free, and I tell all my students, whether they're children or adults or cancer patients or homeless people, that their work is awesome," Kelly said. "Picasso said that everyone is born an artist, the hard part is staying one when you get older. Well, I tell everyone that they are all artists, and the most important tool is the ideas in their heads."
After he reaches his goal of 5,000 puzzle pieces, Kelly hopes to land a guest spot on the Oprah or Ellen DeGeneres talk show, and have a final exhibition featuring each and every puzzle piece.
---------------------------------------------------------------------------------
'Tis a Puzzlement
BOB JORDAN
Asbury Park Press, Mar 11, 2010
photos Tanya Breen/Asbury Park Press staff
MANALAPAN -- There's something puzzling about the mural hanging in the front lobby of the Monmouth County Library Headquarters on Symmes Road.
The colorful spectacle actually is a joint creation by participants at Puzzle Project workshops at county library branches in Shrewsbury, Hazlet, Howell, Marlboro, Wall, Allentown and Manalapan.
Hundreds of separate art and expressive works on 2-by-2-foot foam core puzzle pieces -- including drawings, paintings, and poetry -- were snapped together on March 10 by coordinator Tim Kelly. There's no common theme, except the artists collaboratively "prove that art is essential to life," Kelly said.
"I tell participants as a guideline that each piece shouldn't just say something, it should say something meaningful to you," said Kelly, an artist and instructor. Kelly is a former Shore resident now living in New York City with an art studio in Brooklyn.
Visions and statements about peace and love are the most common themes, said Kelly, adding, "It's funny how those themes have stayed prominent for practically forever. They never go away."
One contribution consists of a gray canvas, a drawing of a flower, and the hand-printed lyrics of the song "Forgotten Children" by Tokio Hotel.
"They can tell any story they want on the puzzle pieces," Kelly said.
County library officials said Puzzle Project is part of expanded teen/young-adult programming being offered.
Monmouth County Public Relations Librarian Judi Tolchin said many library systems are making efforts to reconnect with young readers. The Monmouth system has a Teen Advisory Board that holds monthly meetings. Students serving as board members earn community service hours as they share ideas for teen programs.
"Teenagers are in transition. If we can keep them involved in their libraries, they will have an important resource to use as they are starting their careers and starting to go on with their futures," Tolchin said.
-------------------------------------------------------------------------------


NHK in Japan contacted us about our project and came to our March 2nd workshop at Art Connects New York and interviewed several artists. They liked it so much that they visited the thousands of pieces assembled at The Middletown Art Center. One piece, from our Compassionate Friends workshop, caught their eye. NHK contacted the artist and visited her home to do an interview on her puzzle art making experience. They combined the footage with a live interview on NHK in Japan on the morning of March 11th, 2011. The crew was really nice and we got along famously. A few hours after we aired, disaster struck. It was the same day as the tragic earthquake and tsunami. They are in our thoughts and prayers.
-------------------------------------------------------------------------------
Check out the story by the Middletown Patch about the puzzle project
-------------------------------------------------------------------------------

Click to watch a segment about the puzzle project in Soho that aired on Sino TV of China. Jocelyn Wang interviewed Tim Kelly. The clip is in Mandarin Chinese, so enjoy...
----------------------------------------------------------


Giant puzzle with pieces from around the world
coming together with help from Staten Island
AMY PADNANI
Published by SI LIve: Friday, November 05, 2010
photo: Staten Island Advance/Irving Silverstein
STATEN ISLAND, N.Y. --When it's completed, it will be taller than a giant and wider than a tugboat, and will include tidbits of thousands of people's lives.
It will be a colossal puzzle with thousands of segments, each of which will be designed by people from across the world, and it will be on display this time next year somewhere in New York City.
The latest additions to the giant jigsaw were 50 pieces designed Wednesday by students from South Richmond High School, Pleasant Plains, and Bernstein Intermediate School, Huguenot.

The project is the brainchild of Tim Kelly, an artist who wanted to create something massive to show why art shouldn't be minimalized.
"The goal is just to really blow people's minds," Kelly said. "I just want people to be able to get to it and see that art's as important as anything in your life. It will leave no dispute that art is valuable and a form of expression that can be utilized by many people."
So far, Kelly has collected 4,000 puzzle pieces, each a 24 inch-by-24 inch foam board. They have come from people in 14 states and four countries.
Not all of the project participants are schools; some are individuals who have reached out to him through www.timkellyartist.com, while others are groups like Compassionate Friends, which comprises parents dealing with the loss of a child.
The project was received with resounding enthusiasm at South Richmond High School and Bernstein Intermediate, where students — some from an art class, but most with special needs — thought about what means the most to them in life and how to express it on paper. The get-together, at Bernstein Intermediate, was organized by South Richmond High School teacher Rhonda Tasca.
"They had a great time laughing and coming up with ideas," Kelly said. "The project is so great because it runs the gamut from age to subject, from love to peace to Pokemon. You can literally cover everything."
In one case, he said a student with special needs had his head in his hands and looked extremely frustrated trying to get started on his project. One of the artists grabbed a blank puzzle piece, plopped down across from him and began drawing.
Before they knew it, the student was engaged, asking questions and designing his own piece.
Click to link to the article online
-------------------------------------------------------------------------------
-------------------------------------------------------------------------------
This is an article from the Ocean Star:
Puzzle Art Project comes to Belmar, gives locals a voice
By Kelly Skellinger
Tim Kelly, 37, an artist and owner of CreativeSeven, a design boutique specializing in branding, creative development and production management, recently quoted Deepak Chopra when describing the importance of the Puzzle Art Project currently underway and on display at Surf Taco, in Belmar.
"There are no extra pieces in the universe," he said, quoting the acclaimed author. "Everyone is here because he or she has a place to fill, and every piece must fit itself into the big jigsaw puzzle."
Mr. Kelly is also an art instructor for Art is Good, a series of beginner art classes offered by The David S. Zocchi Brain Tumor Center located at Monmouth Medical Center in Long Branch. The classes are geared towards children and teens whose parents or immediate family members have either been diagnosed with, or have passed away from, a brain tumor.
Mr. Kelly believes that art is an essential part of everyday life, an outlet for self expression which should not be overlooked at any cost.
Mr. Kelly also believes that those in government who are reducing endowments to the arts because they deem the arts to be non-essential need only walk through Surf Taco and glimpse one of the puzzle pieces on display to witness the innate power of one voice depicted in the scribblings of a Sharpie marker or the flick of a paint brush.
The Puzzle Art Project, which started out as a puzzle installation and collaborative project during the 2009 Teen Arts Festival at Brookdale Community College, Lincroft, has since become a collaborative jigsaw puzzle art project, in which local children and adults, eager to make their voices heard through art, design oversized puzzle pieces which then interconnect to form a jigsaw mural of larger-than-life proportions.
Mr. Kelly and Sandy Taylor, Monmouth County Arts Council [MCAC] member, first came up with the idea for the first installation which was featured at Brookdale Community College.
Mr. Kelly decided to continue the project at Surf Taco, where he teachers Art is Good courses to local children. With the help of the Belmar Arts Council, members of the MCAC, and volunteers from the Art is Good program, Mr. Kelly organized the first Puzzle Art Project workshop last Thursday evening, in which artists, both novice and accomplished, young and old, designed puzzle pieces for the project at Belmar's Surf Taco location.
Surf Taco and the MCAC are now co-sponsoring the project, which Mr. Kelly hopes will only grow in grandeur as the summer season gets underway.
Over 100 puzzle pieces were on hand for artists to choose from last Thursday evening, along with essential art supplies, such as paints and brushes.
A small donation of $10 was required to participate, of which $5 went to benefit the David S. Zocchi Brain Tumor Center and the remaining $5 went to continuing the puzzle project and the purchasing of art supplies.
The workshop raised $150 for the David S. Zocchi Brain Tumor Center, Mr. Kelly said, adding that last Thursday was the first workshop in a series of workshops to raise funds for the center and continue the project.
A second workshop will be held at Surf Taco, in Belmar, on Sunday, July 26, from 4 to 7 p.m. Puzzle pieces will be handed out on a first come, first served basis.
Those interested in adding their voice to the project can e-mail Mr. Kelly at tk@timkellyartist.com, www.surftaco.com or www.puzzleartproject.com.
Those who wish to design a puzzle piece but choose not to attend the workshop can request a puzzle piece at the counter of Belmar's Surf Taco branch. The pieces must be returned and will be put on display in the jigsaw puzzle the following week.
Mr. Kelly stressed that there are absolutely "zero rules" when designing a puzzle piece, with the exception that the pieces not be made too heavy to hang.
Mr. Kelly shared one additional piece of advice, "Don't just make something. Make something meaningful to you."
Mr. Kelly thanked Ms. Taylor, with whom he came up with the Puzzle Art Project idea; Rob Nagel, owner of Surf Taco, Belmar, and Chris Quinlivan, manager of Surf Taco, Belmar, for all of their support with the Puzzle Art Project and the Art is Good program; and Jessie Chism, artist assistant and educator, whom Mr. Kelly stated has done a "tremendous amount of work" on the Puzzle Art Project; and members of the Belmar Arts Council, for their continued encouragement and support.
-------------------------------------------------------------------------------------
This is an article from The Coast Star about the Puzzle Installation.
The reporter stopped by SurfTaco while covering the Belmar Artwalk.



Puzzle Making Workshops
are brought to you by

www.artisgoodclass.com