Like most things in art and life, it is better when you have help. The team
of artists that bring the Puzzle Art Installation & Collaborative Project to kids, teens and adults are some of the finest artists and people on this beautiful planet.
The Puzzle Project Team:


Artist, Tim Kelly, is the administrator of the Installation. He also recruited and coordinates the "Puzzle Team" of artists.
Puzzle Team Chief Engineer, artist & percussionist, Dave Previ
Team CEO, artist & designer, Tree Previ

Artist, J Taylor Kissling

Artist & photographer, Kerry O'Neill

Artist, Mike Didia

Artists Meghan Kaltenbach, Christine Migliore and Ang Migliore

Artist, writer & teacher, Jessie Chism (Arts & Education Coordinator)

Artist, Leigh Pacyna

Artists, Jess Felix & Amanda Alsheimer (with Leigh Pacyna)

Engineer, Erin Bradt

Artists & Musicians, Joseph & Michael Heisler
The brothers are "The Monkeys in the Dark"...which also is our house band.

Daydreamer, Jennifer Loucek

Artist, Jessica & Julia Doerrer (with Tim Kelly)

-----------------------------------------------------

The 2011 ACNY Soho Exhibiton Puzzle Project Team:
Jessie Chism, Dave Previ, Theresa Previ, Michael Kabram, Matt Rippetoe, Marilyn Rippetoe, Kieran Gaine, Kris Troyanowski, Ivan Ross, Mr & Mrs Previ, Rico Ventola, jr. and ACNY's Jamie Johnson and Ginger Shulick. Special thanks to Sharon Reaves for connecting the Puzzle Project and Art ACNY.

-----------------------------------------------------
The 2009 Teen Arts Festival Puzzle Project Team:

artist, Sandy Taylor (MCAC) coordinated
the Teen Arts Festival. she recruited Tim Kelly
and together they created the puzzle project.


the talented mixed media artist,
Cheryl Farrington Questore

on precusions, artist & musician,
Dave Previ from The Collective.
Prior to the workshops we had help with prep and setup
from the artists Lisa Marie O'Connell, Karen Starrett &
Lauralee Kelly. A bevy of kind volunteers and artists from
the BAC also helped with the initial puzzle preparation
and installation setup.

painter and art superstar, Lisa Marie O'Connell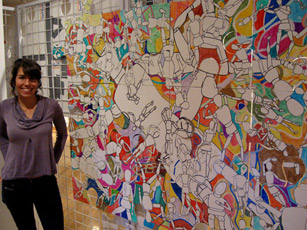 artist and healer, Lauralee Kelly
Also, Big Thanks Go To:
- The Monmouth County Arts Council for kick-starting the project.
- SurfTaco for providing money, space & support to keep the project growing.
- The Monmouth Library System for recognizing the power of the project.
- Igor Volnikov and his family & friends for their support.
- Graphix Solutions for machine cutting our latest blank puzzle pieces. After hand cutting over 1000 pieces, we needed a break.
- The YMCA for piloting the Puzzle Project in Brooklyn.

- Andrea Lynn Horbelt for introducing the project to Americorps in Mississippi.
- Tracey Partridge for making the project bi-coastal with her puzzle
workshop in San Diego, California.
- The kind folks at the Belmar Arts Council for helping to hand cut the first few hundred puzzle pieces.

- And the countless people who helped, encouraged, and/or spread the word.
- Jamie Johnson and Art Connects New York for their support
- Sharon Reaves for introducing us to so many great people in NYC art.
- Lau and Giancarlo from In Rivers for getting it.
- Kelly Kreth for her PR advise.
--------------------------------------------------------
Puzzle Making Workshops
are brought to you by


www.artisgoodclass.com