Maggie O'Brien and t
he Middletown Arts Center hosted an exhibition of thousands of the projects puzzle pieces on Saturday, February 5th, 2011. Art making and live music was included.
In addition to the installation, we had live music and free food provided by SurfTaco and Rita's Italian Ice. We also provided a puzzle making workshop in one of MAC's art studio's. Anyone at the reception that wanted to make a piece was able to do so right there on the spot. Some were immediately included in the installation.
The Installation Setup

(2.3-5.11)

Starting with large stacks of puzzle pieces and blank walls is a bit intimidating. But the task was not as daunting as it could have been, because the Puzzle Team was a crew of super talent artists. Each was a self-starter who took a large amount of pieces and curated their own walls. In the end, the installation was an artfully beautiful site to see.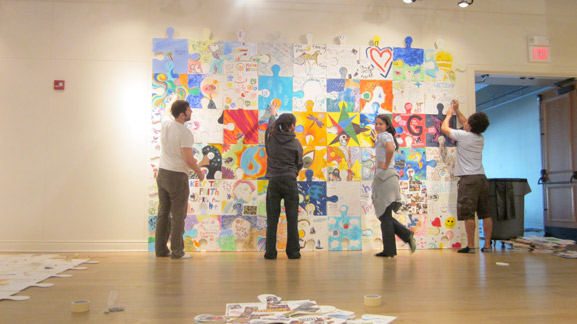 Puzzle Making Workshops
are brought to you by


www.artisgoodclass.com